Sports » Latest News
OKWU Basketball
Posted: Nov 06, 2019 9:11 PMUpdated: Nov 06, 2019 10:11 PM
Eagles Blowout Bacone on the Road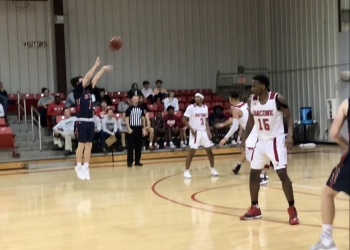 The Oklahoma Wesleyan men's team dominated in a road win at Bacone College, 103-64 on Wednesday night. The Eagles used a strong start and 21-2 second half run to blowout the Warriors in their home opener. This was the Eagles first road game in Oklahoma since 2015.
OKWU started off on a strong 14-4 run in the first five minutes of the game. The Eagles turned offense to defense several times in the opening minutes. This dunk from Kaleb Stokes was a prime example.
The sharpshooting was on full display as well as the Eagles hit nine three-pointers in the opening half. Three of which came from Muskogee-native Brooks Haddock who was playing in front of friends and family. He knocked down this one just before halftime.
The Warriors reduced the lead to 15 early in the second half but a strong run from Wesleyan reduced any threat. Four eagles finished in double-figures and all 14 players to see the floor tallied a point. The Eagles will have a week off before the Kansas Collegiate Athletic Conference opener at Ottawa on November 13.
POSTGAME INTERVIEW WITH COACH BOSTWICK
« Back to Sports