Sports » Latest News
OKWU Basketball
Posted: Jan 14, 2020 2:53 PMUpdated: Jan 14, 2020 3:53 PM
Eagles Host Ottawa in Top-Tier Battle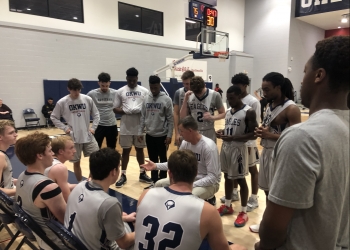 Oklahoma Wesleyan basketball begins the second half of the conference season with a critical matchup against first place Ottawa on Wednesday night. The Eagles have won just one of its last three matchup's against the 10th-ranked Braves, including a two-point loss in the Kansas Collegiate Athletic Conference opener.
With a win, OKWU could pull itself level with Ottawa atop the conference standings. Eagles head coach Donnie Bostwick sizes up the top team in the conference so far.
The Eagles are 0-3 in games decided by three points or less. On the other hand, Ottawa is 4-1 in those same tight games including a win over OKWU early on.
The Lady Eagles could have an opportunity to get past their bump in the road. The Wesleyan women's side has lost all three of its games in 2020. However, the Lady Braves have won just three conference games so far.
Action begins at 6 p.m. from the Mueller Sports Center in Bartlesville. Radio coverage can be heard on Sportstalk 99.1 FM KPGM.
« Back to Sports