Sports » Latest News
OKWU Basketball
Posted: Jan 23, 2022 8:29 PMUpdated: Jan 23, 2022 9:29 PM
Eagles, Lady Eagles Beat Avila; Head to Bethany Monday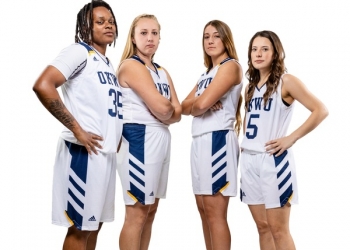 The Oklahoma Wesleyan men's basketball team won its fifth straight game on Saturday afternoon. The Eagles went wire-to-wire to defeat Avila 87-59.
OKWU led by 41-21 at halftime and pretty much put the game away from there. The Eagles outclassed a middle of the pack KCAC opponent. Dylan Phillip, Brandon Bird and Jaden Lietzke all scored at least ten points in the win. Phillip stretched the Eagles lead to 20+ with this first half layup.
The Eagles are now 21-1 on the season. OKWU still holds a 2.5 game over Bethel and Southwestern in the conference standings.
The Lady Eagles gutted out an important win over a talented Avila team, 70-65. Wesleyan overcame a fourth quarter deficit to earn its 11th win on the season. Toni Porter led the team with 14 points on the day.
Both teams head on the road Monday with a trip to Bethany College in Lindsborg, Kansas.
« Back to Sports