Sports » Latest News
OKWU Basketball
Posted: Nov 19, 2021 3:19 PMUpdated: Nov 19, 2021 4:19 PM
Eagles, Lady Eagles Travel to St. Mary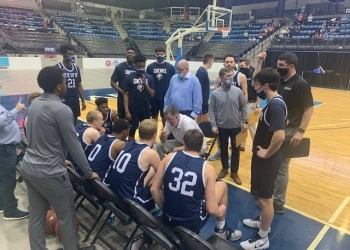 Both Oklahoma Wesleyan basketball teams will be back in action on Saturday with a road trip to the University of St. Mary in Leavenworth, Kansas. This will be the second Kansas Collegiate Athletic Conference game for each side and the first one away from home.
The Lady Eagles lost to Tabor 72-63 on Wednesday. OKWU is hoping to put together a solid four quarters away from home. Lady Eagles head coach Grace Hadley says that St. Mary's unique style will challenge their defense.
The men's team has won seven games in a row to start the season. The Eagles have played stifling defense but are still looking for an offensive breakout. Head coach Donnie Bostwick is confident in his team's depth.
Neither team played St. Mary last season due to COVID-19 restrictions. The doubleheader is slated for 2 p.m. from Leavenworth. Radio coverage can be heard on Sportstalk 1500 AM—99.1 FM KPGM.
« Back to Sports