Sports » Latest News
Sports
Posted: Nov 06, 2019 11:05 AMUpdated: Nov 06, 2019 12:05 PM
Final Bruin Coach's Show at Dink's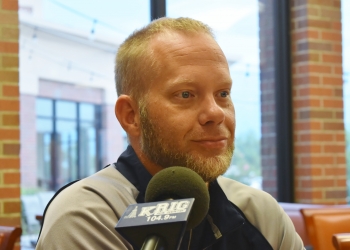 KWON will have its final edition of the Bartlesville Football Coach's Show on Wednesday evening from Dink's Pit BBQ, as Bruin head coach Jason Sport and a senior will be on hand to talk about senior night.
The 2-7 Shawnee Wolves visit Custer Stadium on Friday evening. That will be the final game for BHS in the 2019 season, and will wrap up Sport's first year as head coach.
Listen to Sport preview the Shawnee contest, and recap Bartlesville's loss at Muskogee last week. The show runs from 6-7 on KWON – AM 1400 and FM 93.3.
Also you can watch it online at KWONTV.com. Come out and join us at Dink's for the final coach's show of the year.
Bartlesville was officially eliminated from the playoffs after the 17-point loss to Muskogee, but can still pick up its third district win of the season against Shawnee
« Back to Sports