Sports » Latest News
Sports
Posted: Jul 31, 2020 7:03 AMUpdated: Jul 31, 2020 8:47 AM
For Now - Most States Playing Sports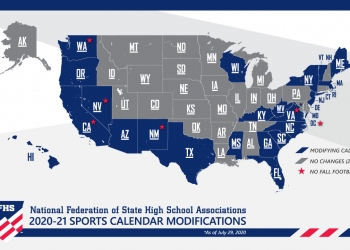 We are a week and a half away from fall sports contests beginning across the state of Oklahoma.
Bartlesville High volleyball and softball will kick off their seasons on Aug. 11.
Those two sports, along with cross country, have been practicing for just under two weeks all across the state.
As of July 31, almost all school districts in the state have announced their intention to have activities this fall, even in Oklahoma City and Tulsa, where they will have online instruction for the first several weeks of the school year.
However, those decisions can change quickly. Because most school districts are having activities, the OSSAA has been hands off at the state level to this point.
At Bartlesville High, Athletic and Activities Director Thad Dilbeck says that not only are school districts within the state talking to each other, but that they are looking to other states as well.
According to the National Federation of State High School Associations, 27 of the 50 states have had no changes to its fall sports calendars. Those include Oklahoma and Kansas.
Texas, along with 23 other states, have had some kind of modified calendar.
Only seven entities have decided against fall football - in Virginia, Washington DC, Washington state, California, Nevada, New Mexico, and Illinois.
FULL INTERVIEW WITH BHS AD THAD DILBECK
« Back to Sports