Sports » Latest News
OKWU basketball
Posted: Mar 23, 2020 4:36 PMUpdated: Mar 23, 2020 5:36 PM
Former Eagles' Seasons Cut Short Overseas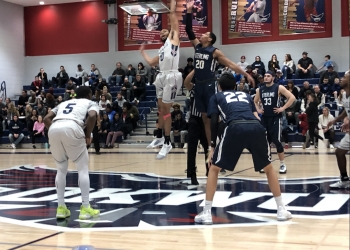 The Coronavirus has effected athletic events locally and overseas as well. That didn't stop former Oklahoma Wesleyan All-American Joshua Wilchcombe from having an outstanding rookie season playing professionally in Finland. Wilchcombe's year ended just before the postseason was set to begin.
The 6-foot-8 big man led the Finnish 1st Division with nearly two block per game. He also averaged 20.8 points per game and 13 rebounds per game as well. Wilchcombe guided the Lokoko Bisons to a 17-4 record, good for second best in the league. Wilchcombe starred for OKWU from 2017-2019, appearing in two national tournaments.
Also, former Eagles star Sadiel Rojas had his season in the Spanish Liga ACB postponed due to the coronavirus as well. Rojas is in his sixth season in professional basketball. He is averaging 4.6 points per game while shooting 32% from three-point range.
Rojas played under head coach Donnie Bostwick and helped guide the Eagles to the 2009 national championship. Rojas was also named the NAIA Player of the Year in 2011. The 30-year-old guard also had three-year stint in the NBA D-League. Rojas was inducted in the OKWU Sports Hall of Fame in 2016.
Wilchcombe and Rojas are the only two former Eagles playing basketball professionally at this time.
« Back to Sports