Sports » Latest News
Sports
Posted: Jul 10, 2018 7:36 AMUpdated: Jul 10, 2018 8:36 AM
Important Week for Bruin Football at Camp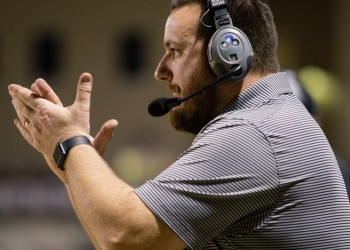 With every passing day and week we are getting closer to the start of high school football in the state of Oklahoma. We are less than a month away from actual practice starting.
At Bartlesville High, this week is another important one. The Bruins are taking part in a padded team camp in the evenings at Custer Stadium. This gives BHS another chance to catch up a bit with a new regime leading the way. Bartlesville has been under first-year head coach Lee Blankenship for pretty much this entire offseason.
Aside from the team camp this week, Bartlesville is going to have some much-needed down time before fall camp begins. Blankenship talks about the schedule for his team the rest of this month.
The team camp in the evenings this week is open to the public. Bartlesville is a bit behind where most teams would usually be at this point, only because of the new coaching staff. Blankenship has pointed to this camp as a vital part of the team's readiness for 2018.
In addition to the team camp this week, Bartlesville hosted a youth camp this past weekend with great numbers on hand. Those camps serve as a tool to get younger generations of Bruins excited for football in the future.
« Back to Sports