Sports » Latest News
Sports
Posted: Jun 28, 2022 7:13 AMUpdated: Jun 28, 2022 8:14 AM
Indians Back in OCL on Tuesday in OKC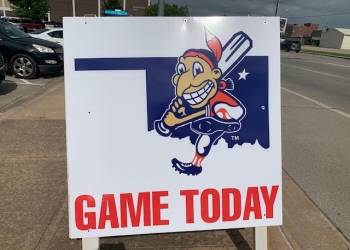 Local baseball is back on the radio on Tuesday night, as the Doenges Ford Indians return to action in the Oklahoma City metro.
This is the fourth Oklahoma Collegiate League double-header of the season for the Tribe, as they travel to the University of Central Oklahoma in Edmond to take on the OKC Travelers for two games.
Bartlesville is 3-2-1 on the year in OCL play. The Indians are still looking for their first sweep of the season in the league. Bartlesville has won just one game in each of the first three OCL dates of the season.
Tuesday's twin bill will be the final tune up for the Tribe before the Glen Winget Tournament begins on Friday.
Indians are 16-8-1 on the year overall. A 4:00 and 6:15 first pitches for the games.
Both will air on Sports Talk 1500 AM and 99.1 FM – KPGM. Also both on KWONTV.com.
63rd Winget

Friday - July 1
11 3 Rivers v Bville Braves
1:15 Ft Smith v Bryant
3:30 MH v Hillcrest
5:45 Mudcats v Southern Ele
8:00 Indians v Kickapoo

Saturday - July 2
10 Hillcrest v SE
12:30 MH v Mudcats
3:00 Kickapoo v Braves
5:30 Bryant v 3 Rivers
8:00 Indians v Ft Smith

Sunday - July 3
10 Hillcrest v Mudcats
12:30 SE v MH
3:00 FS v Kickapoo
5:30 Bryant v Braves
« Back to Sports