Sports » Latest News
Sports
Posted: Jun 26, 2020 7:06 AMUpdated: Jun 26, 2020 8:06 AM
Indians Split in Coffeyville - Pittsburg Today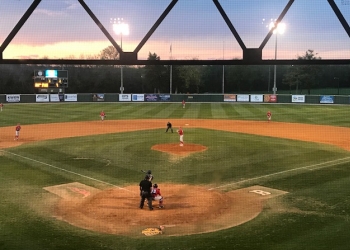 The Doenges Ford Indians split two games in Coffeyville on Thursday night against Montgomery County, as Bartlesville's summer baseball team lost game one, 10-5, but rebounded to run rule the Cardinals in game two, 14-1.
The Indians stand at 8-12 entering four games in Pittsburg, Kansas starting on Friday afternoon.
In game one, Bartlesville trailed 3-0 before scoring three more of their own to tie the contest at 3 in the top of the fourth. The Indians got a clutch infield hit from Rocky Shuman during that span.
Bradee Rigdon gave his club a chance, shutting the door through a couple innings of relief, including getting this double-play with two runners on base and one out in the fourth.
Unfortunately Bartlesville could not make it last. The Cardinals struck for seven runs in the bottom of the fifth to make it 10-3. The Indians would tack on two more in the top of the seventh, but would never seriously threaten.
In game two, it was all Bartlesville from the start. Dakota Ward delivered the first big blow as he hit an RBI on a sharply hit ground ball through the left side.
The Indians scored two in the first, six in the second, four more in the third, and won it in the fourth after two more runs. Bartlesville had 14 hits in total, with Ward, Harrison Clark, Andrew Harden and Calvin Johnson all having multiple hits.
Mason Moody picked up the win in game two, going three innings and allowing just one run.
The Indians will travel to Pittsburg for a 3:30 and 6:00 double-header on Friday.
Game one on Sports Talk 1500 AM and 99.1 FM – KPGM. Game two will air on KWON – AM 1400 and FM 93.3.
« Back to Sports