Sports » Latest News
Sports
Posted: Jul 10, 2019 7:12 AMUpdated: Jul 10, 2019 2:47 PM
Indian's Split vs Winget Champs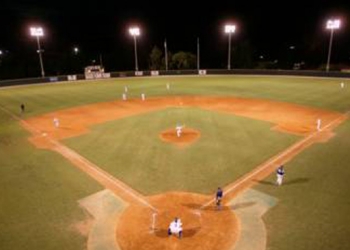 The Doenges Ford Indian's most likely played their best day of baseball on Tuesday in the summer of 2019, as Bartlesville knocked off the Glen Winget champions, and nearly earned a double-header sweep over Ft. Smith, Arkansas.
It ended up being a split, as the Indian's took game one 3-2, but fell in game two to the Sportsmen 14-6.
In game one, Bartlesville kept hanging around.
After the Sportsmen took two separate one-run leads in the fourth and fifth innings, the Indian's would tie the game with a single run in the bottom half of each of those frames. A tremendous pitching outing from Alan Covarrubias, and sparkling defense behind him, kept Bartlesville in the game. With the contest tied at 2 in the bottom of the seventh, the Indian's won their third victory of the summer thanks to a Ft. Smith miscue behind home plate.
In game two, Bartlesville got off to a good start, as well. The Indian's scored three runs in the bottom of the third to take a 4-2 lead. It was another Shawn Sutton home run that provided the Indian's with some momentum early.
Sutton now has 12 extra base hits this summer.
Bartlesville would hold a lead into the sixth inning, but that is when the Indian's fell apart a bit. Ft. Smith would score two in the sixth and then nine in the seventh to make the game look lopsided.
Bartlesville is now 3-25-1 on the summer.
« Back to Sports