Sports » Latest News
Sports
Posted: Jun 21, 2018 7:18 AMUpdated: Jun 21, 2018 8:18 AM
Indian's Split With Bandits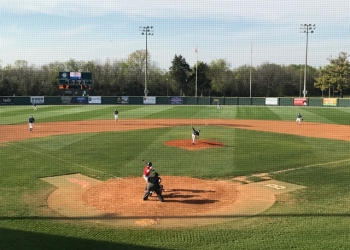 The Doenges Ford Indians finally got the monkey off their back that was the Three Rivers Bandits on Wednesday night.
Bartlesville split a double-header against their regional rival, Three Rivers took game one 4-2, while the Indians won the second game 6-4. Before game two the Indians had lost three straight to the Bandits.
In game one, Harold Borg was sparkling on the mound. Bartlesville's starter went 3.2 scoreless innings. The Indians scored one in the bottom of the sixth to tie the game at 2-2, but the big part of the Bandit lineup scratched across two runs in the top of the seventh to win it 4-2.
In game two it was Bartlesville that would hold a lead throughout.
The Indians (11-7) led 4-3 into the bottom of the sixth when they tacked on two insurance runs, which would prove big. Borg gave his team their sixth and final run of the game on this single.
Three Rivers would continue to make things interesting, though. The Bandits scored run in the top of the seventh, and looked primed to add a few more before a baserunning mistake ended the ballgame and ended Bartlesville's losing streak to Three Rivers.
John Cone picked up the win on the mound, Random Jones got a six-out save. Gavin Feathers was huge at the plate for the Indians – he had three extra base hits on the day, including two triples.
Bartlesville is off until Friday when it starts a four-game series of games at Enid.
First pitch of game one in Enid at 7:00 PM against the Enid Majors, we will air that game on KWON – AM 1400 and FM 93.3.
« Back to Sports