Sports » Latest News
Nowata Football
Posted: Sep 11, 2019 1:32 PMUpdated: Sep 11, 2019 2:34 PM
Seniors Lead Improving Ironmen Defense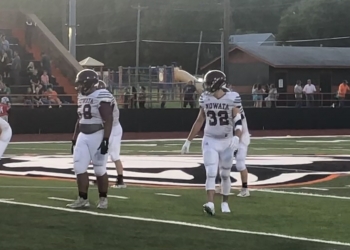 While the Nowata Ironmen have struggled out to an 0-2 start to begin the 2019 season the team still has shown signs of promise. The Nowata defense has made great strides in the non-district portion of the season as it has given 29 points per game. Last year, the Ironmen allowed 49 points per contest in its first three games.
Nowata has shown talent in its front seven. So far, the line of Dillon Barnes, Dayne Bowlin and Trevor Pearson has created havoc in the new 3-4 defensive scheme. Linebacker Josiah Clark also added a sack in the most recent game against Dewey. Ironmen head coach Chris Messner says it all starts on the practice field.
Plenty more on the Ironmen later this week. Nowata travels to Vinita for another rivalry game at 7 p.m. this Friday. Radio coverage can be heard on KRIG 104.9 FM.
« Back to Sports