Sports » Latest News
Nowata Golf
Posted: May 04, 2022 4:49 PMUpdated: May 04, 2022 5:49 PM
Ironmen Golf Team to Make Return Trip to State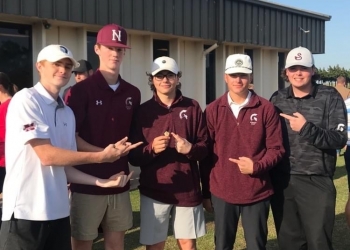 The Nowata Ironmen boy's golf team is heading back to the 2A state tournament for the second consecutive season. The Ironmen will play in the state event at Buffalo Rock Golf Course in Cushing next Monday and Tuesday.
Nowata took second place overall at Regionals. Sophomore Spencer Bullen took first on the individual side with a score of 71, his older brother Maddox Bullen shot a 75. Nowata head golf coach Homer Johnston said either brother is capable of winning a state title.
The Ironmen have had great success in tournament action. Despite not posting their best scores at Regionals Nowata was still toward the top of the leaderboard among 2A schools. Nowata has been top three in the rankings for most of the year. Johnston sizes up Nowata's title chances.
Last year Nowata finished seventh overall at the 2A state golf tournament.
« Back to Sports