Sports » Latest News
Nowata Football
Posted: Nov 05, 2019 2:54 PMUpdated: Nov 05, 2019 3:54 PM
Ironmen look to Re-Establish Ground Game in Finale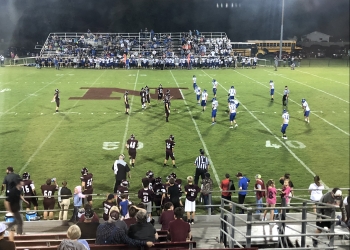 The tough part is over for the Nowata football team. The Ironmen made it past the top 10 teams on its schedule in Metro Christian and Adair dropping both games by a combined 68 points. At 4-5 overall and 4-2 in district, Nowata has an opportunity to clinch the No. 3 seed in 2A-4 with a win on Friday against Wyandotte. The Bears will be the other playoff team in the district regardless of outcome, but could surpass the Ironmen with a win.
The Ironmen have won in the trenches in their four victories this season. The game against Wyandotte gives them an opportunity to do so once again. Head coach Chris Messner says his team was a bit outmatched over the last two weeks.
The Ironmen surpassed 2,000 rushing yards as a team last week against Adair. Nowata is led by Dillon Barnes who has 522 yards. Josiah Clark, Brayden Humphries and Jace McKisson have all compiled over 300 yards on the season.
The matchup with Wyandotte could set up favorably. However, Nowata is 0-4 against teams heading to the playoffs this season. More on this matchup later this week.
« Back to Sports