Sports » Latest News
Nowata Football
Posted: May 20, 2020 1:57 PMUpdated: May 20, 2020 4:03 PM
Ironmen Offseason Plans Still in Limbo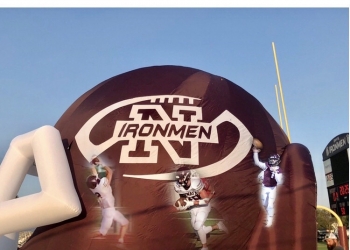 Like every other football team in the state, the Nowata Ironmen hang in limbo. Being the only team in the area going through a coaching change makes this time even more difficult. Graham Snelding inherits a team that lost several senior leaders like Josiah Clark, Dillon Barnes and Dayne Bowlin. Snelding has yet to get in front of the group in person so it is difficult to determine the next class of difference makers for Nowata in 2020.
The OSSAA delayed a potential release of summer guidelines until this Friday. So Snelding says no plans can be made just yet.
The Ironmen will be working with a reduced offseason program regardless. Not only does Nowata have a new head coach, but it will also be working in two new coordinators on both sides of the ball. The Ironmen also will have a new district to play in this fall.
« Back to Sports