Sports » Latest News
Sports
Posted: Oct 09, 2019 7:29 AMUpdated: Oct 09, 2019 8:29 AM
Jason Sport Show Previews BHS Homecoming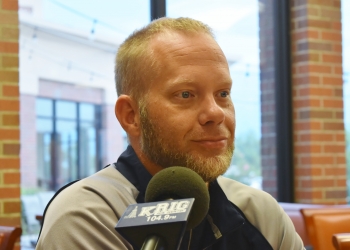 KWON will talk with Bartlesville head football coach Jason Sport on Wednesday evening during his weekly radio show, as the Bruins prepare for their homecoming game on Friday.
Sand Springs visits Custer Stadium, as Bartlesville looks for its first win of the season. The Bruins took Sapulpa to the brink on the road this past week, but ultimately lost to the Chieftains 55-40.
Coach Sport will recap that contest and preview Friday night's showdown with the Sandites this evening from 6:00-7:00 from Dink's Pitt BBQ in Bartlesville.
The show will air on KWON – AM 1400 and FM 93.3. You can also watch the program this evening on KWONTV.com.
A senior player will be featured and interviewed in addition to speaking with coach Sport.
Come out at join us at Dink's at 6:00 PM every Wednesday.
« Back to Sports