Sports » Latest News
OKWU
Posted: Jul 30, 2020 3:22 PMUpdated: Jul 30, 2020 4:23 PM
KCAC Permits Fall Athletics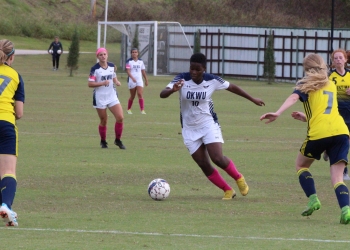 The Kansas Collegiate Athletic Conference published its return to play guidelines this week and announced its intentions to play fall sports despite the NAIA postponing fall championships to Spring 2021.
KCAC commissioner Dr. Scott Crawford says all fall athletic practices can start on August 15 with competition permitted to start on September 5. Athletes must adhere to guidelines that including daily screenings. Also, athletes must return a negative COVID-19 test five days before the start of competition.
This means teams like Oklahoma Wesleyan men's and women's soccer teams could start competition roughly three weeks later than a typical season. However, scheduling remains up in the air as each individual NAIA conference was given the ability to make its own decision on fall athletics. OKWU has not released fall schedules for soccer, volleyball or cross country.
(PHOTO COURTESY: OKWU Athletics)
« Back to Sports