Sports » Latest News
Sports
Posted: May 09, 2022 7:36 AMUpdated: May 09, 2022 8:36 AM
Lady Bruin Tennis 5th at State - Shelley 2nd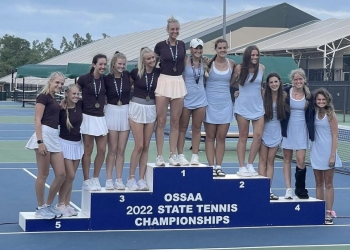 Bartlesville High girl's tennis had a great performance at 6A State over the weekend, as the Lady Bruins made it onto the podium.
BHS took fifth place as a team after getting stellar outings from their singles players.
At No. 1 singles, Maddie Shelley took second in 6A. Shelley, who was undefeated all season long entering the State Tournament, lost in three sets to Alice Hsu of Edmond North – 1-6, 7-6 and 2-6. Still a fantastic season and career for Shelley at BHS.
Annabelle Kelly was the only other Lady Bruin star to place. She took sixth.
(Photo from BHS Tennis Instagram)
« Back to Sports