Sports » Latest News
Sports
Posted: Jan 21, 2022 11:07 AMUpdated: Jan 21, 2022 6:38 PM
Both BHS Teams Win in OKC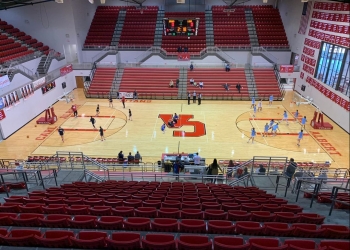 The Bartlesville girls basketball team surpassed its win total from a season ago with a great second half effort against Durant on Friday morning.
BHS won its consolation bracket game in the Carl Albert Titan Classic, 51-38. The Lady Bruins were down by one at half but rallied with 18 third-quarter points to take a commanding lead down the stretch.
This great pass from Kate Gronigan to Regan Hodge gave BHS a bigger lead in the final minutes.
Mikka Chambers led BHS with 14. Kate Gronigan had 10. BHS will play its final girls game at 1:00 PM vs. Del City on Saturday for 5th place on KWON - AM 1400, FM 93.3, 95.1 and KWONTV.com
---
The Bartlesville guys made it two wins for BHS on Friday, as the Bruins had to frantically rally from 21-points down to beat McAlester, 71-70.
Cold shooting continued for BHS, until defensive pressure forced the Buffaloes into nearly 30 turnovers and let the Bruins back into it.
Bartlesville got down 11-0 then 21-points early in the second quarter when the comeback started. BHS scored 28 points in the 3rd quarter, and 22 in the second after tallying just eight in the first.
It was steals like this one from Jordan Carter that led to an Aadi Ayyappan bucket that got BHS back in it.
David Castillo led BHS with 25. Kent Girard got 17.
The Bruins will next face Ada at 2:30 in the 5th place game from Carl Albert on KWON – AM 1400, FM 93.3 and 95.1
« Back to Sports