Sports » Latest News
OKWU Basketball
Posted: Nov 27, 2019 10:41 AMUpdated: Nov 27, 2019 11:42 AM
Lady Eagles Jump into Top 25; Men Fall Out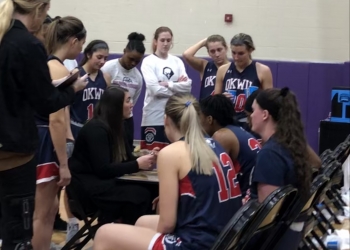 The Oklahoma Wesleyan Lady Eagles cracked the Top 25 in the latest edition of the NAIA Coaches' poll. Despite the 75-65 loss to Avila, the Lady Eagles had enough of a body of work to be deemed one of the best teams in the NAIA. OKWU is 7-1 on the season. This is the first time since 2015 that the Wesleyan Women's team has been ranked.
On the other side, the Eagle men's team dropped from No. 7 in the preseason rankings to out of the polls. The Eagles dropped to road games early on but since have won five straight games to go 8-2 in the first chunk of the season.
Both team's return to action with three games next week. First up is Sterling at home followed by road trips to Southwestern and McPherson.
« Back to Sports