Sports » Latest News
OKWU Basketball
Posted: Feb 19, 2021 5:20 PMUpdated: Feb 19, 2021 6:20 PM
Lady Eagles Lean on Veterans as Postseason Nears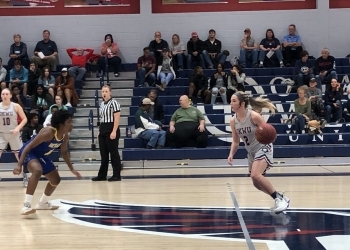 It will be senior day for Oklahoma Wesleyan women's basketball team on Saturday as the Lady Eagles host Bethany. The men's will not play due a COVID-19 related pause. OKWU is likely locked into the No. 8 seed in the Kansas Collegiate Athletic Conference regardless of Saturday's outcome.
Top scorers Danae Goodwin and Hannah Nealis have garnered plenty of attention this season. However, a lot of their success can be contributed to the improved point guard play of Makayla Watkins. The junior from Huntsville, Arkansas has been consistently near the top of the KCAC assists per game leaderboard. Lady Eagles head coach Grace Hadley talks about Watkins.
OKWU wraps up the regular season with a 3 p.m. tipoff from the Mueller Sports Center. Radio coverage can be heard on KWON AM 1400—FM 93.3.
« Back to Sports