Sports » Latest News
Sports
Posted: Jun 19, 2018 7:50 AMUpdated: Jun 19, 2018 8:57 AM
More Passing League on Tuesday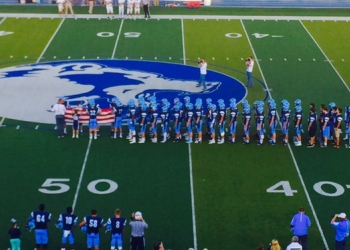 Tuesday marks week two of 7-on-7 games for area football teams.
Pawhuska, Barnsdall and others will be joining Dewey in the Bulldogger's passing league. Bartlesville will be once again traveling down to Sand Springs to take on the Sandites, Sapulpa and Tulsa Edison.
Reports from the first round of games last week were very positive for the Bruins.
BHS had returning starter Noah Sunday and Ben Winters take the majority of the snaps at quarterback, as the position battle is ongoing. Bruin fans know what they're getting with Sunday, who is a scrappy leader with experience that helped Bartlesville through some rough patches in 2017.
Bartlesville High head football coach Lee Blankenship talks about the attributes of his competition for the QB spot in Winters.
Winters and Sunday will get more chances to show off as the month goes on, 7-on-7 passing league football runs on Tuesdays through the end of June.
« Back to Sports