Sports » Latest News
Nowata Baseball
Posted: Jun 22, 2018 4:13 PMUpdated: Jun 22, 2018 5:13 PM
Nowata Building A Pipeline with 14U Championship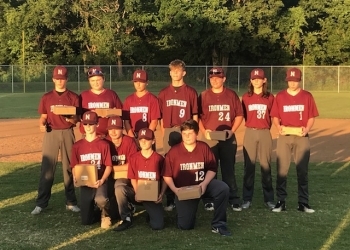 Nowata was able to put together a great run of success in the 2018 Bartlesville Area Amateur Baseball season leading to a championship after the 11-10 victory over Oilfield Pipe & Supply on Thursday.
Nowata head coach Brandon Hicks said despite his team being short a few key players, he knew they were capable of bringing home the crown.
Several players on the team will be going on their freshman year in high school in the fall. Since Nowata Middle School doesn't have a baseball team, the 14U team serves as a direct feeder to the high school program.
The purpose behind the team was to prepare these athletes for high school baseball and build continuity with familiar teammates. Hicks thinks several players from this squad will lead the high school team to prominence in the coming years.
This championship in 2018 is good indicator that this group will continue to find success in the future.
« Back to Sports