Sports » Latest News
Sports
Posted: Feb 22, 2021 7:15 AMUpdated: Feb 22, 2021 8:16 AM
Nowata Eyes Long Playoff Run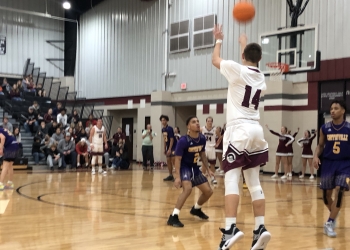 The Nowata Ironmen hope to start what is a long run for them in the 2A playoffs on Monday night.
Nowata will play host to Commerce on Ty Hewitt Court in the first round of the 2A Districts, it is a non-elimination game.
The Ironmen will have big-time aspirations this year, as the guys stand at 10-2, their only two losses coming to Oklahoma Union. Commerce will be no easy task, the Tigers are 11-8.
In order to advance deep in the playoffs, head coach Gary Hollinsghed says his team will have to play consistent defense to pair with the club's lethal offense.
Nowata hosting Commerce, an 8:00 tip and a game we will have for you on KRIG 104.9 on Monday evening. The Nowata and Commerce girls also tip at 6:00 PM.
« Back to Sports