Sports » Latest News
Sports
Posted: May 09, 2022 7:41 AMUpdated: May 09, 2022 8:41 AM
Nowata Golf Heads to 2A State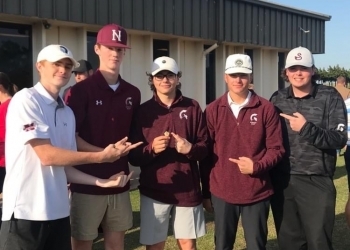 Nowata Ironmen golf team will begin play in Cushing for the 2A State Golf Tournament on Monday.
Nowata should have a chance to get into the top-3 as a team, and a pair of brothers will both have a shot at an individual state championship.
Maddox and Spencer Bullen have both powered Nowata this season. Maddox is the older brother, a senior, headed to Rogers State to continue his golfing career after he graduates this month. Meanwhile Spencer is just a sophomore, and he was the winner at the 2A Regionals last week. The Ironmen took second as a team.
Nowata went to Cushing for a practice round on Sunday.
Head coach Homer Johnston says its little things that should help his team compete on Monday and Tuesday.
2A State is a 54-hole event, with 36 holes on Monday followed by the final 18 on Tuesday at Buffalo Rock Golf Course.
« Back to Sports