Sports » Latest News
Nowata Football
Posted: Sep 18, 2019 2:37 PMUpdated: Sep 18, 2019 3:37 PM
Nowata Looks Ahead to District Play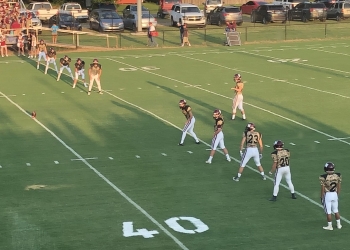 Despite going winless in the non-district season Nowata football is on the rise. The Ironmen should have a chance to compete in a top-heavy 2A District 4 after their bye week. Nowata produced its best offensive output in last Friday's loss to Vinita.
Nowata put up just 14 points on but moved the ball effectively down the field on a majority of its drives. However, four turnovers proved costly in the loss. Ironmen offensive coordinator Matt Mims says the team learned from its mistakes.
Nowata totaled a season-high 320 yards. The ground game continued to be effective for the Ironmen with Josiah Clark leading the way with 78 yards and a touchdown in his first game in the backfield. Jayden Bowman added a score as well. It is bright spot that even with its top two rushing options inactive Nowata still produced. Mims says that depth will be a benefit as the season moves on.
Nowata will keep things light this week, but will ramp up in preparations for its district opener on September 27 against Kansas.
« Back to Sports