Sports » Latest News
Rodeo
Posted: Nov 30, 2018 10:42 AMUpdated: Nov 30, 2018 11:58 AM
Nowlin Leaves for Vegas on Saturday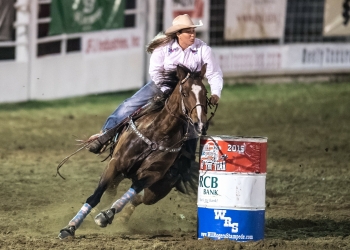 Only 1,271 miles sit between a longtime Nowata resident and her dream to be in Las Vegas, Nevada. That dream revolves around the National Finals Rodeo and barrel racing for Tracy Nowlin, who had once given up on her dream on getting to the big show. Now only days away, Nowlin says her dreams are feeling more like reality.
Nowlin placed 12th overall in the world for barrel racing and found about her ranking on a brisk September day in Omaha, Nebraska. In her long season, Nowlin attended 79 rodeos and she says she couldn't have done it without her horse, Dolly Jo, whom she found on the Internet. She bought Dolly Jo from her original owner on Facebook when the man no longer had a need for Dolly Jo.
Most internet relationships may not come into fruition, but Dolly Jo helped Nowlin, in an unlikely relationship, win over 90-thousand dollars. But more importantly, the match made in heaven fulfilled what felt like a dead dream to Nowlin.
Originally, Nowlin looked for a horse for her son when she stumbled upon Dolly Jo. The pair will head to Las Vegas on Saturday, Dec. 1 to take on the world's best in barrel racing from their humble beginnings in a single stoplight town called Nowata.
The National Finals Rodeo will take place starting Dec. 6 ad will last until Dec. 15.
« Back to Sports