Sports » Latest News
OKWU Baseball
Posted: May 05, 2022 4:03 PMUpdated: May 05, 2022 5:03 PM
OKWU Baseball Opens Conference Tournament Play Friday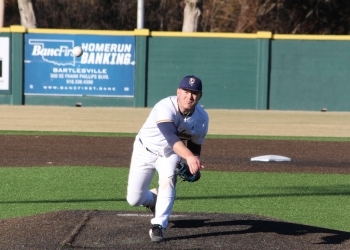 The Oklahoma Wesleyan baseball team has battled poor weather this week but will finally take the field Friday to open the Kansas Collegiate Athletic Conference tournament two days after originally scheduled.
The Eagles have an opportunity to improve their postseason resume over the coming days. OKWU is the No. 5 seed and will open with a No. 4 Friends. The Eagles went 1-2 against the Falcons in the regular season.
Wesleyan has qualified for seven consecutive NAIA Regionals dating back to 2014. Head coach Kirk Kelley says the team isn't guaranteed a spot but has a good chance to qualify again.
OKWU brings 10-game winning streak into the postseason. The Eagles have battled injuries all season and will be a bit shorthanded going into the tournament. Oracio De Leon has been the most reliable pitcher for OKWU and will start game one.
First pitch is set for Noon on Friday from Great Bend, Kansas.
(PHOTO COURTESY: OKWU Baseball / Twitter)
« Back to Sports