Sports » Latest News
OKWU Baseball
Posted: May 19, 2020 1:43 PMUpdated: May 19, 2020 2:43 PM
OKWU Baseball Signs Pair from Evergreen State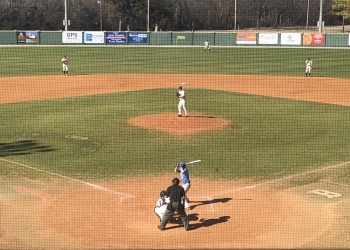 Oklahoma Wesleyan baseball has had no issues getting players to come into the fold despite its canceled season. The Eagles have tapped a long running recruiting pipeline, signing two players from Washington State. Both Seth Delgado and A.J. Geaslen are joining OKWU from Edmonds Community College, a junior college north of Seattle.
Delgado is a 6-1 catcher who saw some time behind the dish for the Tritons before the season was canceled. He also can play corner infield and has seen some looks in the outfield. Geaslen is high-potential bullpen arm although he has only logged seven career innings at three different junior colleges.
Previous OKWU stars like Zach Johnson, Ryan Sandifer and Tyson Cronin among several other have come from Washington previously. The Eagles went 14-14 in the 2020 season before it came to a halt in mid-March.
« Back to Sports