Sports » Latest News
OKWU basketball
Posted: Feb 11, 2020 1:42 PMUpdated: Feb 11, 2020 2:42 PM
OKWU Hits the Road to Play U of St. Mary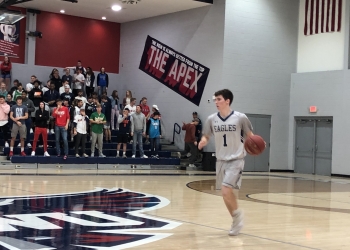 Both Oklahoma Wesleyan basketball teams will look to rebound off losses with another road bout at the University of St. Mary on Wednesday. Both the No. 16 Eagles and Lady Eagles lost at Friends University on Saturday.
The men's team was swept in Kansas Collegiate Athletic Conference series for the first time in head coach Donnie Bostwick three years with the team in his second tenure. Despite this, OKWU still finds itself within striking distance for the KCAC title. Also, a third straight trip to the NAIA National Tournament is within sight. Here is coach Bostwick.
With a win over St. Mary the Eagles could clinch their third consecutive 20-win season as well. Meanwhile, the Lady Eagles are fighting for their lives. OKWU is tied for seventh in the KCAC standings with four games left. The top eight teams qualify for the conference tournament.
The doubleheader from Leavenworth, Kansas is set for 6 p.m. Radio coverage can be heard on Sportstalk 99.1 FM—KPGM.
« Back to Sports