Sports » Latest News
OKWU basketball
Posted: Jan 07, 2019 9:12 PMUpdated: Jan 07, 2019 10:12 PM
OKWU Men Drop First Game; Women Win Third Straight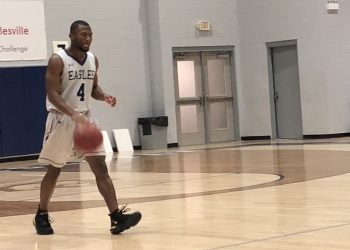 The Oklahoma Wesleyan men's basketball team was handed its first loss of the season on Monday night as 12th-ranked Southwestern knocked them off, 72-68. The Eagles were handed their first loss at the Mueller Sports Center since the same Moundbuilders team defeated them on December 9, 2017.
The game was played a breakneck pace in the first half. The Eagles held the upper hand until a technical foul was assessed with 3:30 left in the half. Southwestern would take the momentum and build a 41-40 lead at the break.
The Eagles took the lead at 51-50 with twelve minutes left in the game on this Lance Tipton steal and score.
However, the Builders would quickly reclaim the lead. The Eagles stayed within a possession or two the rest of the way but ultimately came up short. OKWU made just one three-pointer in the second half.
The Eagles surrendered a three-pointer to stretch the lead to 72-68 with just ten seconds remaining. The best effort of the day came from Elbert Lawrence whose stifling defense limited the No. 2 scorer in the nation, Cameron Hunt, to a season-low 15 points.
The Eagles are now 17-1 on the year and 11-1 in KCAC play.
The Lady Eagles extended their winning streak to three games with an 83-68 win. OKWU went on an 18-2 run in the final five minutes of the third quarter to turn a seven-point deficit to a nine-point lead. A big shot from Ashley cook in the midst of the run gave the Lady Eagles.
Hannah Nealis scored a career-high 24 points in the win. The Lady Eagles are 11-6 overall and 7-5 in KCAC play.
Both teams will play on Thursday with a home doubleheader against McPherson.
« Back to Sports