Sports » Latest News
OKWU Basketball
Posted: Nov 26, 2019 10:05 PMUpdated: Nov 26, 2019 11:17 PM
OKWU Splits on the Road at Avila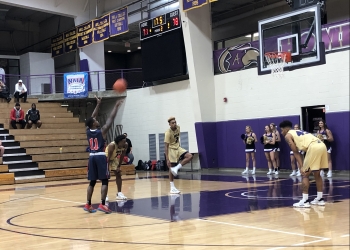 Oklahoma Wesleyan basketball went on the road and earned a split against Avila University in Kansas City on Tuesday night. The men's team held on down the stretch while the Lady Eagles sqaunadered a late lead.
Wesleyan's women's squad fell 75-65 to suffer its first loss of the year. With the game tied at 60 with five minutes left Avila would go on an 11-0 run to seal it. The Lady Eagles played from ahead for a bulk of the contest, leading 34-25. Melanie Williams was a focal point on offense in the first half.
The Lady Eagles did not have enough offensive gusto late in the game and Avila would take it. OKWU drops to 7-1 and 3-1 in conference play.
The men's team used a 11-2 run early in the second half to seperate what was a close game. OKWU won by a score of 79-73. The Eagles led 36-34 at the break after holding a small lead for a bulk of the half.
Out of halftime the Eagles let Avila tie the game with 15 minutes to go. The 11-2 run for the Eagles was capped off by a big three-pointer from Ke'Von Boston.Brooks Haddock helped seal the game with 12 free throws for his game-high 23 points.
The Eagles fifth straight win pushes them to 8-2 overall and 3-1 in KCAC. OKWU is next at home on Monday for a doubleheader against Sterling.
« Back to Sports