Sports » Latest News
Sports
Posted: Mar 25, 2020 7:11 AMUpdated: Mar 25, 2020 8:11 AM
Olympic Trials Delayed for Lady Bruins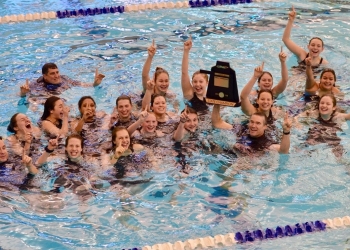 Swimming season had wrapped up just a few weeks before COVID-19 hit the country, so up until recently, it had not affected any of the outstanding former Lady Bruin swimmers at the next level.
However with the postponement of the 2020 Olympics on Tuesday, it is likely to push back the Olympic trials as well.
Kate Steward was planning on taking part in the Olympic trails this summer, although it looks like that will be a bit further down the road. Steward talks about swimming at the trails.
The trials were originally scheduled to start on June 21. There is no official new date for the event, except to say they will not be this summer.
Steward wrapped up a tremendous 2019-2020 season with a couple individual Big 12 championships at KU last month. She says she stays in contact with Bartlesville head coach Chad Englehart.
We will have the news on when the new Olympic trial dates will be and on Steward's upcoming junior season at the University of Kansas - along with all the other former Lady Bruin's in Lawrence.
« Back to Sports