Sports » Latest News
Barnsdall Football
Posted: Nov 28, 2019 9:06 AMUpdated: Nov 28, 2019 10:06 AM
Panthers Ready for Quarterfinal Showdown Against Cashion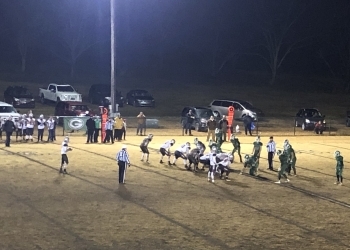 Friday night marks the first time in 40 years that the Barnsdall Panthers have made the quarterfinals of the Class A state tournament. In order to continue on, the Panthers must defeat an undefeated Cashion team at home. Coach Kylee Sweeney knows this won't be an easy task.
Quarterback Joe Cole got ejected in the third quarter of last weeks game against Gore for a late hit against a defenseless player. Cole would have had to sit out this ballgame, but the school appealed the suspension and got it overturned. Sweeney expects this to make a big difference in the game.
Sweeney encourages everyone in the Barnsdall community to make it out for Friday night's 7 o' clock home playoff game against Cashion. If you are unable to attend, the ballgame will be broadcast live on Real Country KRIG 104.9 FM. Pregame coverage will start at 6:30 p.m.
« Back to Sports