Sports » Latest News
Sports
Posted: Sep 17, 2022 6:21 AMUpdated: Sep 17, 2022 7:21 AM
Pawhuska Beats Woodland in Wild One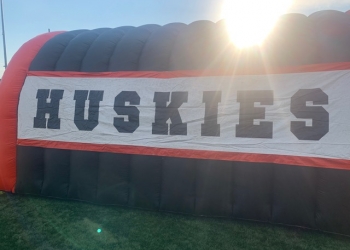 Pawhuska and Woodland played in an all-time classic in the storied rivalry on Friday night in Fairfax.
The two teams traded blows in the final minute, with Pawhuska coming out on top 48-46 in a wild-high scoring affair.
A -two-point conversion failed after a Woodland touchdown as time expired, and Pawhuska held on to a two-point win in come-from-behind fashion.
Pawhuska was facing what looked like an insurmountable lead seemingly as soon as the game begin.
Woodland was up 32-6 midway through the second quarter but that is when momentum seemed to turn in favor for the Huskies. Pawhuska would score a touchdown - and then a low snap on fourth down for Woodland set Pawhuska in a great spot to make it a 32-26 game right before half.
Woodland would strike early in the fourth quarter making it a 40-26 ballgame. Pawhuska would score and get a big stop. Down by eight, the Huskies got the ball back at their own 19 yard line when Todd Drummond found Tahnahkeh Supernaw for an 81 yard touchdown reception and then again on the two-point conversion to make it even at 40.
Woodland would get the ball and march all the way down the field before turning the ball over on downs at the Pawhuska 5-yard line.
With 2:30 left in regulation Senior Quarterback Todd Drummond would lead the Huskies 95 yards down the field and rush it in himself with 30 seconds to go. The Huskies would go up 48-40.
Woodland would get the ball at their own 35 and scored a touchdown on the last play of regulation. It was 48-46 with a two-point conversion awaiting.
Linebacker Tyrel Richardson would sack Cougars quarterback Aiden Rhodes to seal the game and improve the Huskies record to 3-1 on the year.
They will travel to Vinita next week.
« Back to Sports