Sports » Latest News
Nowata Football
Posted: Oct 07, 2019 3:03 PMUpdated: Oct 07, 2019 4:05 PM
Playoffs Could Be a Reality for Nowata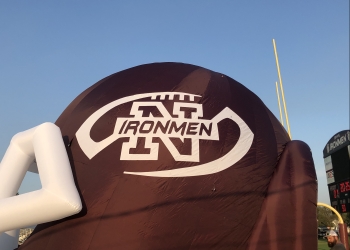 Reason for optimism is even more warranted after the Nowata Ironmen won its second consecutive game to start district play last Friday. The Ironmen outlasted Chelsea 44-23 to move to 2-3 overall on the season. This is the Nowata has won back-to-back ganes since 2016.
The Ironmen appeared to be headed in the direction of another disappointing year after losing three rivalry games to start the season. However, a continued commitment to the run has been bountiful for Nowata in the season's middle stages. The Ironmen have totaled 8 rushing touchdowns in the last two weeks, including three from Dillon Barnes against Chelsea. Nowata head coach Chris Messner says the Ironmen will continue to develop the passing game but keeping it on the ground is key.
Nowata finds itself in the driver's seat for a potential playoff appearance. The Ironmen need to win just two of their final five games to finish among the top four teams in 2A-4 and earn their first playoff bid since 2016.
Nowata plays Salina on Friday, a team with an identical record 2-3 (2-0). The Wildcats and Ironmen have both defeated Kansas and Chelsea so far in district play. Much more on this key game later in the week.
« Back to Sports