Sports » Latest News
Sports
Posted: Jun 27, 2018 1:46 PMUpdated: Jun 27, 2018 3:00 PM
Rigdon Thrilled for AD Opportunity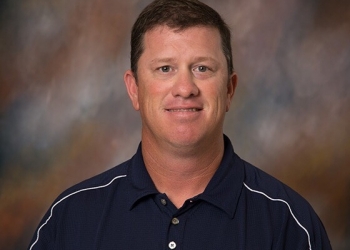 It didn't take very long for Bartlesville High to find its new Athletic and Activities Director - and it is a familar face at that.
Bartlesville Public Schools announced the hiring of former head baseball coach Spence Rigdon as the new AD on Wednesday morning, just 25 hours after the announcement that former Athletic Director Ryan Huff was going to resign.
Rigdon had spent the past 15 seasons with the Bruin baseball program prior to taking the Athletic Director's position at Collinsville High School just a matter of weeks ago. Rigdon talks about the last couple days and leaving Collinsville to stay a Bruin.
Rigdon had expressed an interest in moving to the administration side of athletics with his son Bradee entering high school this fall. Rigdon said when Bartlesville's AD job opened, it was too much for him to turn down. He says he is ecstatic about the opportunity to continue to dawn Bruin blue.
Rigdon was a 1991 graduate of Bartlesville High School, and now, he is a Bruin to stay.
---
Press Release:
Bartlesville, OK. June 27, 2018 – At the Bartlesville Board of Education meeting on June 28, Superintendent Chuck McCauley will recommend that former varsity baseball coach Spence Rigdon serve as the new Director of Athletics and Activities. Rigdon will succeed Ryan Huff, who resigned earlier this week.
A 1991 graduate of Bartlesville High School, Rigdon taught social studies in the Bartlesville Public Schools for 18 years, including a long stint in the district's alternative high school program. In 2015, he was the recipient of the annual Kurt Schmoldt Teacher Appreciation Award and soon after that earned a master's degree. Rigdon served as the district's varsity baseball coach for the past fifteen years but recently stepped down from his positions, planning to become the athletic director at Collinsville, and the district hired Austin Jarvis as the new head varsity baseball coach.
Superintendent McCauley commented, "I am grateful that Collinsville was willing to let us bring Spence back home as our new Director of Athletics and Activities. His long experience in the district, record of accomplishments, and ties to our community will greatly benefit our programs."
Rigdon successfully fought a battle with cancer in recent years, bolstered by an outpouring of community support for him and his family. Rigdon's wife, Christina, is the district's Family Support Coordinator for Title I schools. Spence and Christina have three children: Rilee, who is a champion runner and will continue to run at Oklahoma State, along with Bradee, who will be a freshman at Bartlesville High School, and Cy, who will be in the fourth grade.
« Back to Sports