Sports » Latest News
Sports
Posted: Jun 25, 2020 8:46 AMUpdated: Jun 25, 2020 9:47 AM
Soccer Tryouts Wrap Up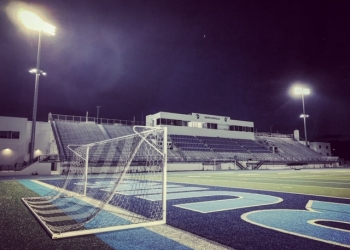 Bartlesville Bruin soccer made its roster announcement on Wednesday evening, as head coach Anthony Tucker got the band together for its tryouts earlier this week.
This was the first round of Bruin soccer tryouts, with another being in the fall.
There are many familiar names in the senior class, including Tanner Benbrook, Logan Brown, Brandon Bulleigh, John Covell, Aaron Lehman, Dylan McCoy, Luis Ortiz and Mack Vaclaw. Tucker says that the summer months have been good to his upperclassmen, and he says he is looking forward to seeing what they have for 2021.
Tucker was also quite complementary of Custer Stadium's new look with the outside of the press box being finished up.
The soccer team got to do tryouts under the lights with the new press box as a backdrop. We will have more on Bruin soccer throughout the offseason.
A look at Lady Bruin softball, which also held its tryouts earlier this week, is planned for Friday.
Photo Cred - Anthony Tucker
« Back to Sports