Sports » Latest News
Sports
Posted: Oct 10, 2019 7:35 AMUpdated: Oct 10, 2019 8:35 AM
Sport Talks Sandites on Coach's Show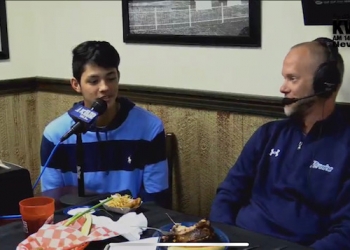 Bartlesville High football is getting set for its homecoming battle against Sand Springs on Friday night, as the Bruins try to pick up their first win of the year.
BHS came awful close a week ago at Sapulpa, but could not finish the thing out against the Chieftains, losing 55-40.
Head coach Jason Sport talked about the loss on Wednesday night on his weekly radio show from Dink's Pit BBQ.
You can watch an archived version of the show on KWONTV.com, as well.
The 34-points the Bruin's put up in the first 18-minutes of gameplay helped show the potential the Bartlesville offense still has behind quarterback Ben Winters and running back Laken Clowdus. Sport says those two have improved over the past couple of weeks.
Four different Bruins caught passes this past Friday, while BHS accounted for 587 total yards of offense.
Bartlesville and Sand Springs will hook up at 7:00 on Friday night from Custer Stadium. We will air the game on KWON – AM 1400 and FM 93.3. You can watch it online as well on KWONTV.com.
« Back to Sports