Sports » Latest News
Barnsdall Football
Posted: Nov 06, 2019 2:19 PMUpdated: Nov 06, 2019 3:35 PM
Two Teams Show Great Sportsmanship Friday Night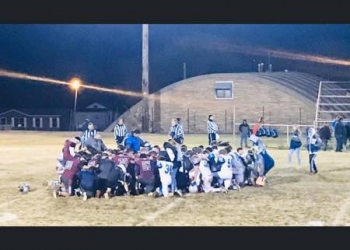 The Barnsdall Panthers defeated the Woodland Cougars 48-33 Friday night to clinch a berth into the playoffs next week, but sometimes things happen to put life in perspective. This was the case Friday when a Barnsdall player was injured and was in need of medical attention from an ambulance. As medical personnel rushed to the field, the ambulance got stuck in the mud and coach Kylee Sweeney was concerned.
Once that happened, players from both sides sprung into action, though.
Sweeney said the player suffered a neck injury along with a concussion.
(Photo and video courtesy of Barnsdall High School Facebook Page.)
https://www.facebook.com/teresa.hollowaybledsoe/videos/10215488280864938/
« Back to Sports