Sports » Latest News
Sports
Posted: May 09, 2022 7:44 AMUpdated: May 09, 2022 8:44 AM
Wright Readies for BHS Spring FB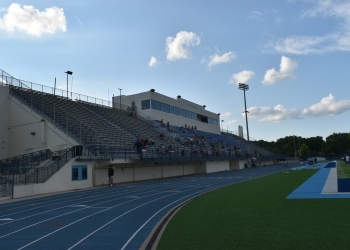 Bartlesville High football is only a week away from spring practice, as first year head coach Harry Wright continues preparations for his first extended look at his club.
The Bruins are able to do a little football-related stuff during school hours right now, but next week will be the first opportunity to run a real practice.
Wright talks about what the Bruins have already done so far this semester.
As would usually be the case with a new group of coaches, there will be some changes in the program – from the youth portion of Bartlesville football to the varsity level.
Wright says there have been a couple growing pains, but for the most part everyone has been supportive.
Wright has officially named his two coordinators for the upcoming season. Travis Burkhalter will serve as the defensive coordinator, while Wright will retain Bruin offensive coordinator Jason Munoz for another season.
The Bruins will have a spring game on May 21st – more on Spring Ball later on this week and next.
« Back to Sports